Overview
Working with business and marketing partners, I redesigned the card summary section of Capital One's credit card application. This was done in order to improve the way Capital One communicates the benefits and value of their credit card products in the application experience.
The final output consists of three designs. Each tested live using multi-variant testing. The hope is that applicants will be better informed of the additional credit card benefits during the application experience, and in turn lead to an increase in application volume.
Original Card Summary
The original card summary does not display additional benefits other than the earn rate, APR and the annual fee. While this information is needed in the credit card application, applicants are more inclined to apply if they are aware of the additional benefits to using the card.
By redesigning the summary section, we not only better inform applicants of the additional card benefits, we also help increase the number of submit applications.
Kick-Off, Wireframes, and Critique
Working with business and marketing partners, we kicked-off the project by doing a competitive analysis, as well as an inventory of what applicants want to see when researching a credit card. Based on research collected by Capital One, we identified that customers want to see benefits including the early spend bonus, the number of points earned with each purchase and the annual fee.
From this, I sketched out a series of wireframes and concepts as a way of visualizing a new layout that would support the information and benefits applicants wish to see.
Once I applied the content to the sketches as low-fidelity black and white wireframes, I shared the designs with my business and marketing partners and asked for their critique.
By critiquing the designs as a team, we were able to identify three versions to implement through multi-variant testing.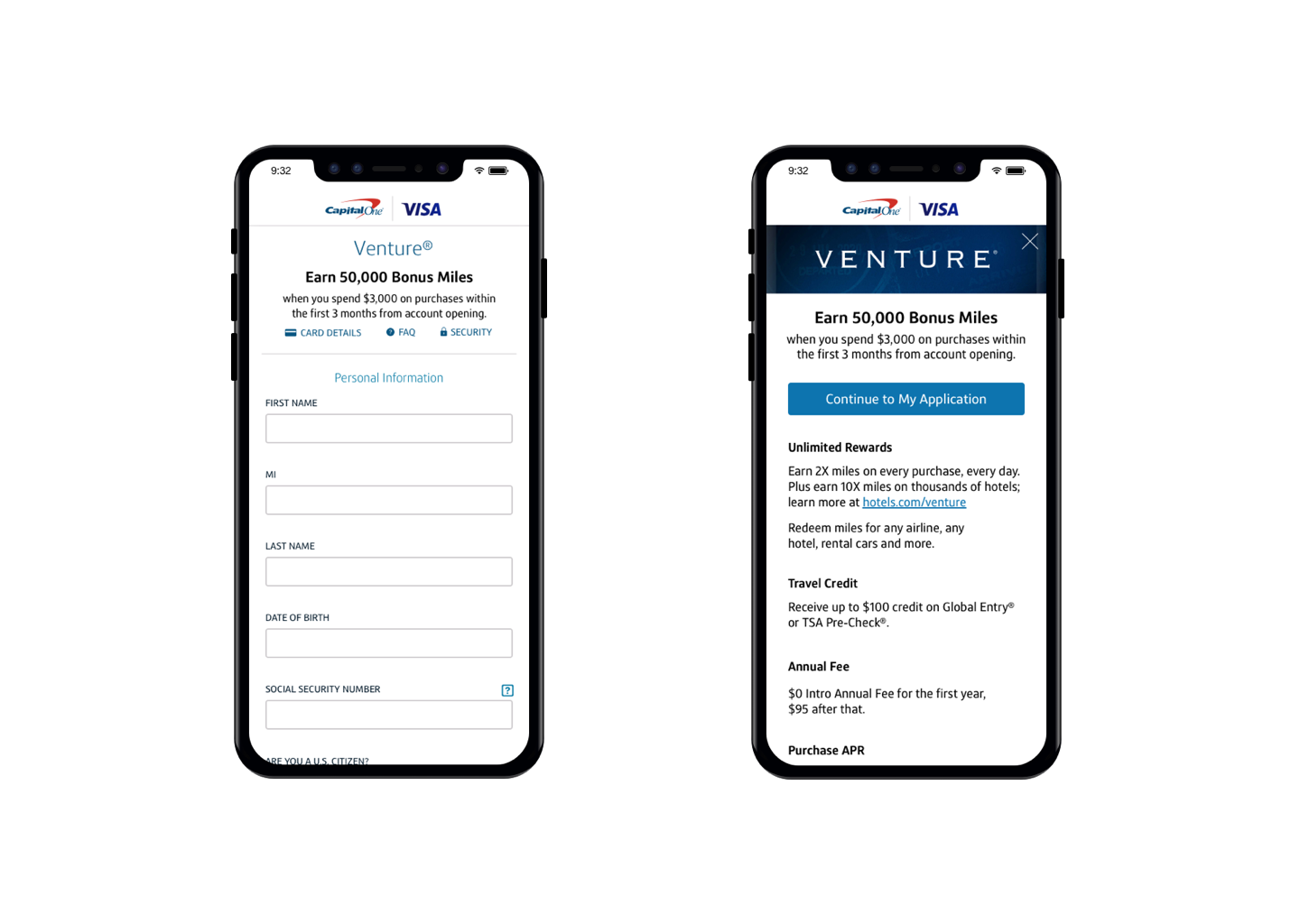 Final Designs
The final designs consist of three variants, each with different layouts, behaviors and affordances in displaying the benefits of the credit card product.
Each variant displays the early spend bonus as the most prominent benefit while also showing the additional perks and rewards of using the card.
Through multi-variant testing, we can see how applicants respond to each version based on the number of submit and approved applications. This will inform future design decisions and eventually lead to a redesign of other Capital One credit card applications.